Dr. Moynihan is our office's resident orthodontist. There are many benefits to having your orthodontic treatment done by a board certified orthodontist instead of a general dentist or a mail in service. Dr Moynihan uses specialized imaging and software to develop a customized treatment plan for you. Our experienced orthodontic team uses technology to improve your experience with intraoral scanning.
Braces
Braces and orthodontic treatment are used to correct "bad bites," or malocclusion (teeth that are crowded or crooked). In some cases your teeth may be straight, but your upper and lower jaws may not meet properly. These jaw or tooth alignment problems may be inherited or could result from injury, early or late tooth loss, or thumbsucking.
If you have an abnormal bite your dentist may recommend braces or another orthodontic treatment to straighten out your smile. Correcting the problem can create a nice-looking smile, but more importantly, orthodontic treatment results in a healthier mouth.
Invisalign
Invisalign is a clear aligner system to help correct misalignment of the teeth. Invisalign is a great option for people looking to improve their smile without conventional metal brackets.
Retainers
Retainers are worn to prevent teeth from moving and to hold their position.
Interceptive and Early Intervention Orthodontics
We recommend orthodontic consultations for most of our patients starting around age 7. Even though mostly baby teeth are present at age 7, early orthodontic problems, such as crowding and crossbites, can be helped with early intervention orthodontics.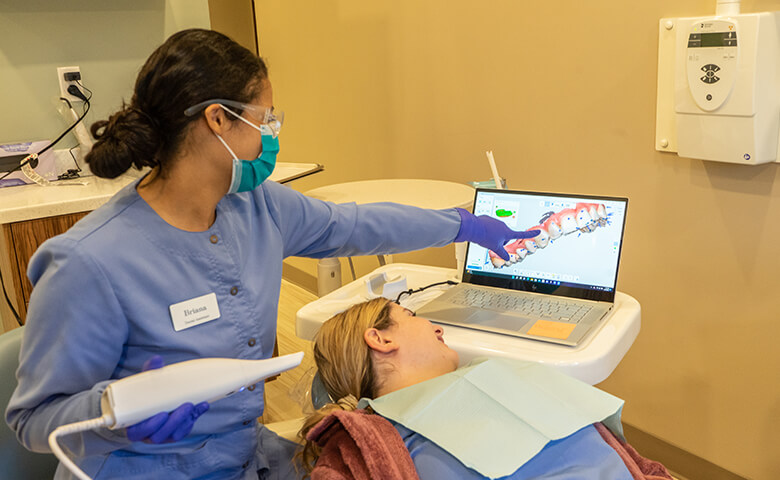 Experience the All Hands Difference
All Hands Dentistry is a full service family and cosmetic dental office. We are happily accepting new patients.